Solutions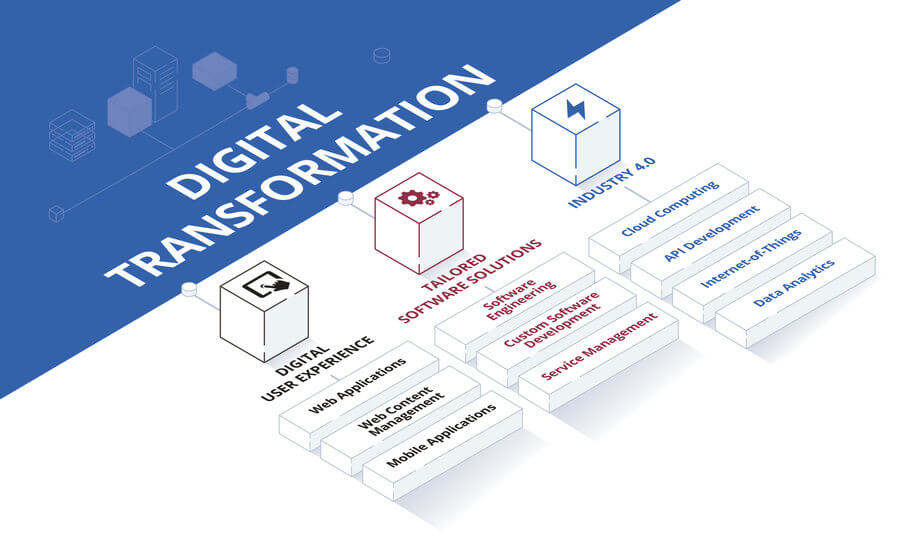 Activate digital transformation with proven software engineering know-how
We offer digital transformation solutions for businesses to enhance productive capabilities while securing a rewarding customer experience.
DIGITAL
USER EXPERIENCE
Make your customers choose you every time by engaging them in dynamic user experiences
Create side by side a realistic roadmap to keep the triggering vision while delivering modern user experience
Enhance existing products to meet customers' expectations and face new market challenges by implementing new age business models and technologies
Identify new markets and design an approach with responding products
Natural intertwine of intuitive thorough UI/UX and robust, scalable technology platforms for today's users to stay connected to their environment
Web Applications
Fully covered web app development to meet your business goals
Web Content Management
Not just CMS, but comfortable business processes
Mobile Applications
Increased productivity, efficient communication and smooth processes
TAILORED
SOFTWARE SOLUTIONS
Accelerate time-to-market with continuous product innovation
Full-stack software engineering services cover the complete development life cycle to build a solution from the ground, migrate an existent product to a new platform or re-engineer an existing solution using modern technology
Standard to complex systems for your business processes to run smoothly and efficiently
We identify and predict market needs and envision software platforms to respond accordingly
Staff Augmentation in support of Independent Software Vendors
Software Engineering
Exceptional customer experiences and revenue growth with advanced systems
Custom Software Development
We take every customer with their specific needs
Service Management
Alignment of IT services to current and future needs

INDUSTRY 4.0
Transform your business into a connected environment
We offer private and hybrid Cloud services to build the best solutions and match them with your individual business challenges
Highly specialized API development services, suited to varying business models and ensuring their seamless integration with powerful business apps
We support businesses find new data monetization opportunities and architect Big Data solutions to keep your customers close
We integrate smart devices and sensors into enterprise IT environments
Cloud Computing
New business opportunities and innovation with speed, flexibility, security
API Development
All-star performance of your software applications
Internet-of-Things
Endless opportunities in a connected world
Data Analytics
Improved business performance
Project Samples
How we succeed
Transparency and Communication are key differentiators in our relationship with customers, based on complete visibility from day one of your custom development project. We work with you to shape the right engagement model, delivery method and custom solution to meet your needs. Our communication lines are always open throughout your engagement via email, phone, chat, Skype.
We apply an agile methodology for consulting and software engineering services, consisting of the following major activities:
Business strategy and goals review
Requirements and use cases
Proof of concept(s)
Architecture and design
Implementation and testing
Production deployment
Training and knowledge transfer
Innovation, Quality, Delivery on Time
have been our objectives since 1994.
Start a project with us!