Outsourcing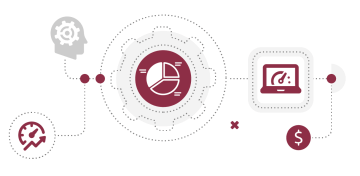 MANAGED SERVICES
Embrace IT transformation
With our application and IT infrastructure management services you can now maintain a perfect balance between production and costs and gain competitive edge.
You decide the extent of the offering
You like to keep IT operations in your own hands, they are part of your core business. IT managed services offered by Ropardo cover any area of the IT scene : from virtualization and cloud infrastructure to middleware such as databases, web, or application servers and further to application services.
Managed applications

Competitive businesses rely on flawlessly running software applications. Our expert full life-cycle application management services ensure seamlessly available and technologically up-to-date applications.

Managed infrastructure

Efficient business processes depend on your IT infrastructure. Ropardo offers IT infrastructure management services to keep your IT environment running smoothly.
Our offer
Comprehensive review and performance tuning by experienced consultants
Professional support services (planning, installation, configuration and monitoring) for your web applications and IT systems and database administration and tuning
Professional organization, planning and execution of changes and rollouts
Expertise in open source applications
Support from experienced software engineers, when necessary
Competent planning and implementation of migration, processes and structures in line with current standards
Comprehensive documentation
Your Benefit
Highly stable and reliable applications and IT processes to support your business
Access to experts with broad technology know-how and years of practical experience with industry specific software products
Assistance with SLA planning, negotiations, and implementation
Transparency and predictability of IT transformative outcomes
Customized application Management Services from the hands of professionals
Cost reduction from using open-source components and avoiding major IT failures
Business Continuity, Availability Management and Capacity Management
HOW WE WORK
Easy start on flexible SLAs
Decide what parts of your IT ecosystem management we cover (Level 2 and or Level 3), define support parameters, transfer knowledge to support specialist and we start executing SLAs.
Choose your team
We have the capacity to configure the right team for you, be it dedicated or shared. The team members will speak your language, know your industry, understand your IT transformative and secured needs.
Transparent costs
You pay exactly what we agreed on in the scope of services while benefiting from a long-term planning security. Also, with customized SLAs you are in control of the costs at all times.
Round the clock support
In line with the SLA, you can rely on qualified contacts that speak your language, as well as on reliable IT operations up to 24/7.
Automation is efficiency
The more we automate the less the repetitive work and the higher the standards. With automation we guarantee reproducibility and reduce the error rate.
Certified services
We work by ISO 9001 and ISO 27001 certified processes to guarantee you with best quality managed services.
Learn more
Innovation. Quality.
Timely delivery. since 1994