Outsourcing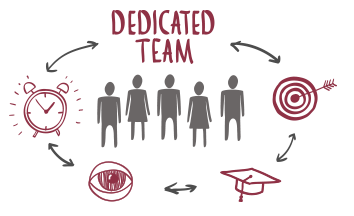 DEDICATED SOFTWARE DEVELOPMENT TEAMS

With dedicated teams offered by Ropardo exclusively for your software development project, you have long-term flexible workforce at your discretion.
Why hire a dedicated software development team?
Dedicated software development team is a very popular solution among companies that wish to have cost-effective extended development resources assigned exclusively for them, and retaining their unique domain knowledge.
A dedicated team will be as successful as the team manager is committed to be. ROPARDO has experienced team managers with the knowledge to build software development teams and to execute the project plan with the right output in terms of productivity and quality. They will ensure the use of the right technical knowledge and skills to meet specific project needs.
Your benefits:
flexibility in labor arrangements (the resources you need when you need them) and in dynamic change of plans;
savings from recruiting, training and administrative personnel-related costs;
ability to focus on the project management, not people management;
efficient workflow and clarity on the status of the project ensured by experienced dedicated team leader;
better delivery time
Advantages if working with our dedicated teams
extensive experience in nearshore/offshore software development projects;
organizational environment ensuring technical and project management know-how;
high personnel retention rate;
evidence of activities through iManagement project management software;
fluent English speakers;
small time difference to Western Europe, allowing live communication when necessary (1 hour from CET and two hours from GMT).
Innovation. Quality.
Timely delivery. since 1994