Outsourcing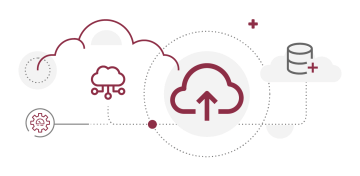 CLOUD MANAGEMENT
For digital transformation of your business
Your cloud solution will respond to your business needs and deliver on its promise in terms of scalability, integrability and high availability.
Managed Cloud gets you ahead of your competition
Today's companies and their management base their activity on the availability of IT infrastructure on the fact that it is fast and reliable, flexible and optimally scalable. IT operations optimized through the cloud helps you identity issues before actually becoming issues. Thus you are in control of your costs and security.
Broad cross-platform experience and a 20-year technical expertise of our IT operations team recommend Ropardo as the right provider of Managed Cloud services.
Public, Private or Hybrid Cloud

Choose the cloud environment that best serves your business targets in terms of efficiency, costs and security. We we will operate your applications and systems following best practices in virtualization and containerization.

Multicloud Management

Multicloud environments ask for flexible management solutions to secure performance of complicated mixes of applications while staying in control of costs, We can help with building, moving or managing your multicloud environment.
Our offer
Design of a tailored cloud and microservice architecture
Support you from analysis to transition of your cloud software
Fast and convenient provision of IT environments
Develop cloud-native software for your specific application
Support you in setting up a CI/CD pipeline
Your Benefit
Business continuity based on CI/CD activities
Operating cost savings through optimum use of resources
Enhanced IT security and data availability
Reduction of administrative and maintenance costs
Maximum flexibility and responsiveness in IT operation
Spend less time managing infrastructure
HOW WE WORK
Easy start on flexible SLAs
Decide what parts of your IT ecosystem management we cover (Level 2 and or Level 3), define support parameters, transfer knowledge to support specialist and we start executing SLAs.
Choose your team
We have the capacity to configure the right team for you, be it dedicated or shared. The team members will speak your language, know your industry, understand your IT transformative and secured needs.
Transparent costs
You pay exactly what we agreed on in the scope of services while benefiting from a long-term planning security. Also, with customized SLAs you are in control of the costs at all times.
Round the clock support
In line with the SLA, you can rely on qualified contacts that speak your language, as well as on reliable IT operations up to 24/7.
Automation is efficiency
The more we automate the less the repetitive work and the higher the standards. With automation we guarantee reproducibility and reduce the error rate.
Certified services
We work by ISO 9001 and ISO 27001 certified processes to guarantee you with best quality managed services.
Learn more
Innovation. Quality.
Timely delivery. since 1994