Outsourcing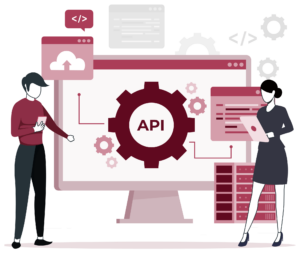 SOFTWARE CONSULTING SERVICES
Empower your business with tailored tech solutions
First and foremost, we immerse ourselves in understanding your distinct needs. From there, we go through every single phase of crafting and integrating IT solutions tailored to achieve your business goals.
Our software consulting services meet your technology needs
To navigate the high-speed digital transformations happening nowadays and maximize the impact of this digitalization for your organization, you need a mature technology consultant with whom you speak the same language. Our IT consulting experts keep your business goals in mind and support you in making reliable decisions so that you can go ahead of the competition with the digital solutions envisioned and built for your unique organization.
Here is where our software consulting services meet your technology needs:
EXPERIENCED TEAM OF IT CONSULTANTS
We only work, and so will you, with experienced software and business consultants with technical background and broad process and industry know-how that firmly keep in mind your business outcomes.
With 50% seniors in its line-up, our IT consulting team makes your encounter with technology pleasant and valuable. You will understand what digital solution best serves your needs, how it is advisable to develop and implement it in your organization for sustainable results and to fit naturally into your business growth strategy.
<
REQUIREMENTS MANAGEMENT
Requirements management refers to understanding the results you want to achieve with the software to be developed and defining the exact demands from it. We work that out through constant communication between the project team members, stakeholders, and end users.
Our offer
Competency in the field of requirements management and engineering
Capturing all details
Object oriented analyses via Unified Modeling Language (UML)
Use of proven development methods for requirements definition
Adjustment to requirement changes throughout the course of the project
Your Benefit
Requirements are systematically identified, analyzed, defined and evaluated
Use cases are defined with end users
Actionable, measurable, testable requirements, related to the business needs identified
Requirements are tested and validated, and delivered in a ready-for-implementation state
SYSTEM ANALYSIS
Once requirements are formalized, the development process starts only after the system analysis, a phase that focuses on mapping the features, duplication and integration of the new systems with existing ones.
Our offer
Analysis of the current situation
Identify your business processes (UML) on the IT system map
Design target solution, modify, enhance or adapt existing systems and integrate new features or improvements
We find best solutions without selling any specific technology (vendor-neutral)
Your Benefit
A map of the entire IT system, characteristics and application relationships
Cost analysis, design considerations, and implementation of timelines outlined by our interdisciplinary team
Are aware of the potential and limitations of integrating new and existing systems
Training and support for your users
RISK ANALYSIS
In today's landscape, IT systems are intricate and vital to business operations. It's crucial to pinpoint and control risks throughout every project phase. With mature risk management services, we make sure risks are detected, tracked, and addressed promptly at each project milestone.
Our offer
Identification of potential risks and threats
Assessment of individual and global risks
Creating and maintaining risk maps and logs
Your Benefit
A clear picture of the exact situation based on a structured risk map and statistics
Protected investment, rolled back costs, and leveraged opportunities
Maximum reduction of the negative impact of risks
PROCESS OPTIMIZATION
Successful custom software is mainly about technology choice but also about the processes involved. Process optimization activities are a must in every project that delivers sustainable results and quality.
Our offer
Conduct process analyses and build roadmaps
Identification of key performance indicators
Collaborative setting of objectives
Develop and test new processes
Simulate and evaluate new processes
Ensure process analytics and identify areas for potential improvement
Your Benefit
The right input for your customized software
Avoidance of unnecessary development costs
Opportunities identified early and integrated into final solution with minimal costs
HOW WE WORK
Easy start on flexible SLAs
Decide what parts of your IT ecosystem management we cover (Level 2 and or Level 3), define support parameters, transfer knowledge to support specialist and we start executing SLAs.
Choose your team
We have the capacity to configure the right team for you, be it dedicated or shared. The team members will speak your language, know your industry, understand your IT transformative and secured needs.
Transparent costs
You pay exactly what we agreed on in the scope of services while benefiting from a long-term planning security. Also, with customized SLAs you are in control of the costs at all times.
Round the clock support
In line with the SLA, you can rely on qualified contacts that speak your language, as well as on reliable IT operations up to 24/7.
Automation is efficiency
The more we automate the less the repetitive work and the higher the standards. With automation we guarantee reproducibility and reduce the error rate.
Certified services
We work by ISO 9001 and ISO 27001 certified processes to guarantee you with best quality managed services.
Learn more
Innovation. Quality.
Timely delivery. since 1994