References
B2B eCommerce Platform
Automate Order Placement and Streamline Sales Representatives' Work
With a B2B eCommerce Portal - Your salesperson available anytime for booming business growth in distribution and production industries
As a specialist in the distribution of premium food market, our client is a supplier for HoReCa & FMCG players across Europe, many of which are leaders in their field.
Having an experience of over 25 years in the premium food market and managing a network of thousands of customers and products, the process of ordering and tracking deliveries is essential for business.
Following the latest dynamics on the market triggered by a purchase behaviour that is digitalizing intensively, especially after the pandemic era, our client decided for a digital transformation of their sales processes, from order placement to customer care services.
Before adopting the customer self-service solution (e-commerce) created by Ropardo, the client's sales process was conducted on the field and over the phone, based on a direct and time-consuming interaction between its sales representatives and their customers. As many of their customers are owners of chain stores, restaurants with multiple locations, our client wanted an eCommerce platform to automate the complex B2B transactions and relationships.
To cope with the large dimension of its business and ensure a smooth department collaboration, our client has complex business rules in SAP C4C managing entire business, sales and logistic flows. This means that the digital transformation with an eCommerce platform won't work if the software solution doesn't support their business complexity.
Our team developed a comprehensive B2B eCommerce platform that automates order placement and streamlines the work of sales representatives.
The B2B eCommerce Portal offers a rich product catalogue, a complex pricing & discounts management system, account and user management capabilities, a seamless order management system, secure
The great differentiator to which Ropardo brought its contribution and expertise was the seamless integration with the client's ERP system, the SAP (plus SAP C4C). This allows a transparent and error-free communication between the sales activity and the rest of the business operations (invoicing, shipment, reporting).
Another key part of our solution is the dedicated mobile application that supports the B2B web platform, increasing usability among customers. By using the app, customers enjoy a personalized experience and can build trust in B2B business. This results in increased sales and revenue for our client's business.
Our business has seen a significant increase in sales and customer satisfaction since implementing the SAP B2B eCommerce solution. The platform has allowed us to streamline our ordering and inventory processes, resulting in faster and more accurate transactions. The mobile app is also a game-changer, providing our clients with on-the-go access to our products and services.
The B2B eCommerce Portal exploits the opportunities triggered by the growing digital behavior and allow the distribution company to:
Do you have a similar situation?
ROPARDO is an independent leading software engineering company providing customers with key competitive advantages – Innovation, Quality, Timely delivery, since 1994.
With the latest tools and agile methods, we create beautiful highly performing products and platforms as well as user-friendly mobile, cloud or web applications to increase speed-to-market and deliver more frequent releases. Well-grounded in the Agile state of mind, our engineers are flexible in responding to any challenge. Yet, we have been here and successful before the Agile era, so trust us for classic approaches. 
Requirements management
System analysis
Risk analysis
Process management
Change management
Problem management
Incident management
Release management
Architecture design
Implementation
Project management
Software test
Software maintenance
Performance tuning
User training
Download case study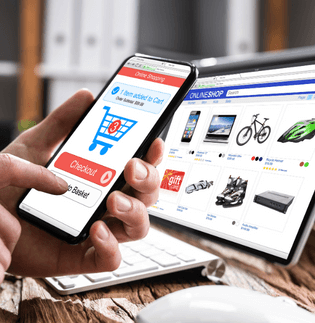 Innovation. Quality.
Timely delivery. since 1994