Outsourcing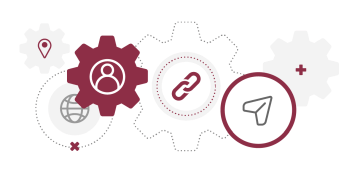 IT OPERATIONS
Business continuity guaranteed
Our experts in IT operations and system monitoring ensure the availability, performance and security of your systems.
Customized management of your IT operations
Ropardo Remote Operations Center (ROC) provides you with state-of-the-art individual IT operations. With a proactive attitude, we guarantee tailored monitoring and alerts for round-the-clock availability of your applications.
Operations

You now have a long-term partner to fully or partially outsource the management of your IT infrastructure. The services can be performed remotely or on site according to your needs. Whichever the case, you will benefit from our experience and our proven standards.

Monitoring

System failure happens, but if you fix it before your users notice it, it did not exist. Our reliable system monitoring services ensure quick resolution of possible IT failures and give you the decisive competitive advantage.
Our offer
We take over the responsibility for operating areas (for instance, networking), or your entire IT system (Data Center operations) according to custom SLAs.
Incident, Problem and Change Management
Qualified and experienced staff
IT system monitoring for error prevention or quick detection & troubleshooting
Automatic incident alert system
Monitoring of application-specific connectors
Transparent and powerful Reporting System
ISO 9001-compliant remote operating infrastructure, including ITIL-normalized process handling
Your Benefit
Round-the-clock support for your business processes
Increased customer satisfaction
Reduced risk of downtime and operating costs
Access to highly skilled experts that speak your language and know your industry
Special consideration of your critical paths through individual escalation paths and event categorization
Monitoring solution customized per your business goals
Transparent, measurable and predictable IT performance
Reduced complexity of IT ecosystem
HOW WE WORK
Easy start on flexible SLAs
Decide what parts of your IT ecosystem management we cover (Level 2 and or Level 3), define support parameters, transfer knowledge to support specialist and we start executing SLAs.
Choose your team
We have the capacity to configure the right team for you, be it dedicated or shared. The team members will speak your language, know your industry, understand your IT transformative and secured needs.
Transparent costs
You pay exactly what we agreed on in the scope of services while benefiting from a long-term planning security. Also, with customized SLAs you are in control of the costs at all times.
Round the clock support
In line with the SLA, you can rely on qualified contacts that speak your language, as well as on reliable IT operations up to 24/7.
Automation is efficiency
The more we automate the less the repetitive work and the higher the standards. With automation we guarantee reproducibility and reduce the error rate.
Certified services
We work by ISO 9001 and ISO 27001 certified processes to guarantee you with best quality managed services.
Learn more
Innovation. Quality.
Timely delivery. since 1994