Company

ROPARDO is an independent leading software engineering company providing customers with
key competitive advantages – Innovation, Quality, Timely delivery, since 1994.

Our vision
Provide customers with "solutions for the future" using best software engineering services that ensure the competitive advantage for the next decade.

Our mission
Engage our software engineering expertise in crafting advanced software systems for your business to benefit from exceptional customer experiences, competitive edge and revenue growth.
We love software.
With the latest tools and agile methods, we create beautiful highly performing products and platforms as well as user-friendly mobile, cloud or web applications.

Ropardo custom software development services cover the complete development life cycle to build a solution from the ground, migrate an existent product to a new platform or re-engineer an existing solution using modern technology.

We master Cloud, Big Data, Web, Mobile and DevOps technologies to build commercially efficient software that enables users to transform their vision into actions.
Future-proof software engineering is ensured by the natural intertwine of intuitive thorough UI/UX and robust, scalable technology platforms for today's users to stay connected to their environment.
Ropardo uses agile methods to increase speed-to-market and deliver more frequent releases. Well-grounded in the Agile state of mind, our engineers are flexible in responding to any challenge. Yet, we have been here and successful before the Agile era, so trust us for classic approaches, too.

Today's world is changing fast so innovation is part of our culture and the key competitive advantage we provide our customers with in terms of skilled people, current technology trends, strong procedures, and R&D passion.
With a deep understanding of needs and trends in various industries, our team of consultants, developers and QA have accommodated specific requirements in, but not limited to Manufacturing and Logistics, Healthcare & Fitness, Travel & Tourism, e-Commerce, Health & Pharma, Automotive, Telecommunication, Financial Services and Banking.
ROPARDO headquarter is located in Sibiu, Transylvania, in the center of Romania. The medieval city is part of a history with solid roots in the Western civilization which helped build the local open-mindedness and innovative spirit.
Sibiu enjoys modern communication ways which makes it easily reachable by plane, by car or by train.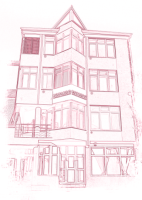 Innovation. Quality.
Timely delivery. since 1994