Company
Ciprian Candea – CEO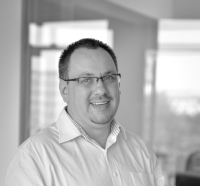 CEO of ROPARDO, Ciprian Candea is engaged in defining the company's strategy and vision inspired by his passion for technologies. To build the competitive and innovative company that ROPARDO is today, he has invested immeasurable time and energy in shaping a comfortable culture where people feel and live human and organizational values while performing in it.
In driving the overall business, Ciprian conducts the business strategies by exploring the know-how compiled from his origins as a researcher in computer science. With valuable experience in the field of IT solutions, he is actively involved in innovative projects conducted by ROPARDO in partnership with customers and institutions around the world and gathering around specialists in mobile technology, eHealth or decision support systems. Never missing an opportunity to take part to Research and Innovation projects that are in line with the company culture ensures infinite resource for our innovations.
Guided by the belief that taking means giving first, Ciprian encourages the involvement of the company in social, health and education projects. While being well aware of the importance of contributing to the lasting and sustainable development of the community, he helps the team select those projects that generate a positive impact towards the strategic objectives of the company and their efficient implementation.
Once the above guidelines checked, they result in direct benefits for our customers which means mission accomplished for the company.
Claudiu Zgripcea – Manager of Technology Competence Center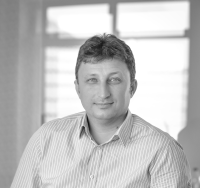 As Manager of the Technology Competence Center, Claudiu Zgripcea is responsible for setting up and implementing strategic partnerships with worldwide proven technology providers, manages day-to-day operations and ensures technology consulting for our esteemed customers.
With his solid experience and inborn passion for software engineering, he successfully manages and develops services activities of ROPARDO by implementing strategical plans for the software development team and all products. Claudiu has worked himself or coordinated teams that handle cutting-edge platforms, technologies and methods such as IBM Collaboration Suite (Lotus), Microsoft .NET, SAP PowerBuilder while managing projects by using Agile/SCRUM or PRINCE2 methodologies.
Under his leadership, the team of software engineers at ROPARDO has grown in size and knowledge adding to its expertise industries like automotive, tourism, eHealth, for the great satisfaction of the company and its partners. It is on this resourceful background that Claudiu works permanently by the customers' side to drive most reliable custom solutions.
Marius Staicu – Distinguished Project Engineer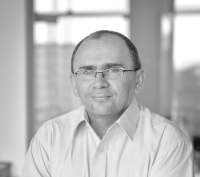 Awarded the well-deserved Distinguished Engineer title, Marius Staicu guides the use and capitalization of technologies in ROPARDO development projects. Following his hands-on experience in building a software product from concept to production, the management trusts him as a technical advisor to help them shape business decisions and processes.
His contribution to architectures, standards, and tools development is the long-built result of his passion for software engineering and commitment to company values, having settled for Java and web development. With his broad base of proven technical knowledge and leadership skills, Marius acts as an acknowledged mentor for our engineers granting them support for various disciplines and competencies. Always willing to share know-how, Marius ensures valuable speaking at various conferences and workshops ROPARDO organizes or is invited to regularly.
Familiar for so long with the market dynamics, he works in highly interactive relationship with our clients in order to overcome their business challenges. The great appreciation for the complex solutions development he has successfully guided and influenced comes along with his interest and contribution in Research and Innovation projects.
Gabriela Candea – Manager of the R&I and HR Departments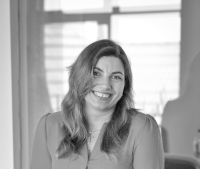 A science passionate, Gabriela Candea has naturally taken over the position of Manager of the Research&Innovation Department, referring to coordination of activities related to research projects. The department itself is a key component of the company in terms of team and business development in general, adding value to our projects and reflecting our belief in innovation. And Gabriela is to blame for the challenging projects within which the above is achieved.
As Manager of HR Department, Gabriela oversees the most valuable asset of the company, its employees, by applying an effective people management. She has contributed massively to what is now an employee-oriented company culture resulting in valuable human resources, continuous improvement, key employee retention and development, friendly environment and high performance. Together with the management team and other key players in the company, Gabriela sees to the continual improvement of internal processes, replacing outdated practices with proven timely systems for a growing team. Hers is also the role to watch over the health and safety of the team while they work in an equipped and pleasant environment.
A mathematician and computer scientist by education, with a PhD in Production Planning Improved by Knowledge Capitalization, Gabriela deals with both positions with passion and extraordinary results which is why she enjoys great appreciation among colleagues.
Ciprian Hategan – Business Developer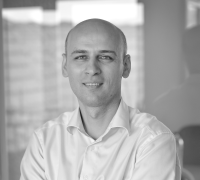 As Business Developer, Ciprian Hategan is in charge of identifying and implementing growth opportunities in line with the company development strategies.
Combining his education as an engineer and his communication skills, he works together with the management board to plan and oversee new marketing initiatives. Identifying trendsetter ideas on the software development market and keeping abreast of competitor's strategies, he looks for those opportunities that are in the best interest of the company and potential customers at the same time. He also makes sure ROPARDO is represented fruitfully at international events.
With Ciprian in the team, ROPARDO enjoys recognition and long-term value from its business relationships.
Innovation. Quality.
Timely delivery. since 1994