Services
Cloud applications for fast forward business!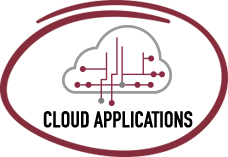 Evaluation: After appraising business specificity we determine the cloud model – public cloud, private cloud or hybrid cloud – that best suits your needs and requirements.
Application development: For unparalleled Cloud application development, we first test the prototype application we designed to fit your business requirements, then magically turn it into a flexible application solution that can be redesigned quickly to match business shifts.
Implementation and integration: Once the application created, our service personnel will implement it into your IT environment and integrate it with your core systems.
Data storage and processing have become more and more useful and much more cost-efficient. Whatever your role in business, modern Cloud application services from ROPARDO can help you see new business opportunities and innovate faster.
Enjoy our work
Do you have a strategy to get most out of your cloud investment? We can help whether you need a single custom application or a comprehensive cloud strategy that integrates multiple platforms and applications!
With a broad experience gained in projects ROPARDO will be your CLOUD guide, meaning your business will enjoy:
reduced ongoing operational expenses
up-front capital expenditures
improved time-to-market and time-to-value for your investments
scalable solution to meet your changing business needs
improved business efficiency
rising revenue by opening up new market opportunities
Cloud made for long-lasting businesses
ROPARDO build for you the solutions and products that are right for your business and are gently with budget. The Cloud Applications we build and the Cloud management services we offer allow you to succeed in modern business before competition.
ROPARDO Cloud Solutions provide organizations with:
up to 60% faster applications for your business to meet market demands and cope with every day challenges
protection against unknown threats through a security system that isolates endpoint environments using communities of Interest
reduced costs by means of a single dashboard to manage infrastructure optimizing resources
Cloud models exposed as Platform as a Service, through OpenShift
Customized applications as Software as a Service
Private and Public Cloud deployment models
With thousands of hours of best practices in our toolkit, our engineers successfully develop and deploy innovative applications using the major Cloud platforms, including Amazon Web Services, Force.com, Google App Engine, Intacct, Microsoft Azure, NaviCloud and Rackspace. In addition, our specialists have a deep understanding of a wide range of standard and emerging technologies, including Java, Hibernate, Ruby, C#, Perl, PHP, AJAX and HTML5.
Three words to describe benefits your business will get with Cloud solutions we provide: speed, flexibility, security.
Innovation. Quality.
Timely delivery. since 1994