Applied Research

We drive business value by blending science, teamwork and know-how
Ropardo is committed to developing innovative software solutions which translate the results of our applied research projects into real life. We aim at creating a sustainable added value for our partners, while transposing ideas into successful products.
Mostly when it comes to applied research, ROPARDO is looking far into the future to be sure that new technologies will meet market requirements in the years to come.
ROPARDO creative team works with industry partners, focusing on new concepts to provide companies with cost-effective solutions for the future.
Research and Innovation Services
ROPARDO is focusing on research activities with full strength, resolving difficult situations, while the results are exploited by customers through our solutions and services.
By cooperating with ROPARDO in development partnerships, companies are given the opportunity to work on tactical innovation topics beyond the realms of their company structures. We focus on the aspects of value-adding in the future generating unique research solutions for innovative projects translated into real life products.

EU Funded Research and Innovation

Some challenges are so complex and multifaceted that the best solution can only be achieved through cooperation of several partners. In numerous projects ROPARDO departments and research groups are therefore working together on an interdisciplinary basis. ROPARDO R&I department has demonstrated expertise in the efficient managing of large projects many times. For collaborative projects we can rely on a large network of cooperation partners.

ROPARDO has a broad practical experience and a strong will to launch the solutions developed successfully on the market. Consequently, start-up activities have increased significantly over the last few years – which is also partially due to ROPARDO particular start-off friendly environment.

For your innovation to count these days, it has to team up with speed: innovations must be quickly checked in terms of feasibility and must be brought to the market as soon as possible. ROPARDO Rapid Innovation Lab (RIL) provides support from innovation via prototyping and evaluation to further implementation into a concrete product.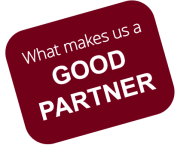 High experience in international R&D projects
Broad expertise in on-going innovation developments co-financed
by the EU
Strong relationships with academic and industry partners
Extended technical & industry know how
Project management capacities and experience
Transfer of innovations into applications
Innovation. Quality.
Timely delivery. since 1994