Applied Research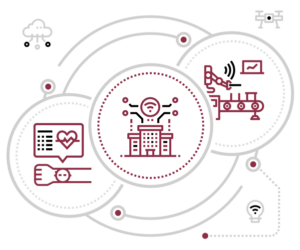 DIGITAL INNOVATION HUB
Where you increase competitiveness with digital technologies
Ropardo DIH helps partners and clients increase the competitiveness of their organizations by improving workflows and processes using digital technologies.
Your digital transformation starts with Ropardo DIH
The right digital technology will change the ins and outs of your organization: optimized business processes, enhanced productivity, high-quality products and services.
With Ropardo Digital Innovation Hub (DIH), we are close beside you while you achieve all your objectives by providing you with the correct guiding, help you choose the right digital technology, implement it and embrace it in your entire organization, from management to operational departments.
Ropardo DIH Services
We drive business value by blending science, teamwork and know-how
Ropardo is committed to developing innovative software solutions which translate the results of our applied research projects into real life. We aim at creating a sustainable added value for our partners, while transposing innovative ideas into successful products.
Mostly when it comes to applied research, Ropardo is looking far into the future to be sure that new technologies will meet market requirements in the years to come. Our creative team works with industry partners, focusing on new concepts to provide companies with cost-effective solutions for the future.
Ahead of competition, fast and safe
Ropardo DIH focuses on creating value-added innovative solutions that respond to real business needs. We also cover support services such as mentoring, digital trainings, and consulting on legal, regulatory, and standards advice, as well as market intelligence.

Powerful technological alliance
Ropardo has been a trusted technological partner in EU consortiums and has demonstrated expertise in the efficient managing of large projects for more than 20 years. For complex and multifaceted projects, Ropardo DIH and EU research groups work together on an interdisciplinary basis.

Key networking, successful investment
By joining Ropardo Digital Innovation Hub, you become part of an ecosystem where you can connect with other businesses, research centers, and universities and find funding for your digital transformation.

Test before Invest
For your innovation to count these days, first it must be checked in terms of feasibility and brought to the market fast. Ropardo DIH provides access to digital testing facilities where you can safely experiment with advanced technologies. Also, you will get support from innovative ideas via prototyping and evaluation to final implementation into a product.
Let's start together your digital transformation journey
Through the digitalization opportunities offered, Ropardo is an essential ally for companies that want to gain a competitive advantage.
Proposed digital transformation solutions
For the digitalization of businesses, we develop both custom-made and ready-to-use software for our clients. Take a look at our solutions and services portfolio and decide which approach comes in handy to you.
PORTAL SOLUTIONS
You name it, we create it!
We have the technological and industry know-how to build the type of portal solution your business needs covering end-to-end portal development services.
MVP LAB
Your everything factory for software creation
We mix well-bred developers and designers with present-day technologies and artificial intelligence to guarantee vendible software development solutions
CMS
For small or large businesses
The right CMS is always the one that can be adjusted as your business grows. Ropardo works with reliable Content Management Systems to build the custom web solutions that meets your needs.
READY-TO-USE SOFTWARE

Get far faster
We have developed for you a series of ready-to-use software platforms to help you get far faster than your competition: EMR, digital signage, IoT integration system.
DIGITAL HEALTH

Health data integration platform
We respond to a growing demand of digital services in healthcare, providing a personalized ready-to-use software platform to help you build health awareness applications.
ERP

Vitalize your business
Our mission is to accelerate your business transformation by providing on-demand ERP platform solutions and high-quality consulting services, on time, on budget and on-target.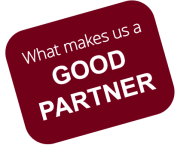 High experience in international innovation projects
Broad expertise in on-going innovation developments co-financed
by the EU
Strong relationships with academic and industry partners
Extended technical & industry know how
Project management capacities and experience
Transfer of innovations into applications
FitEDIH – Together we are stronger
As part of our initiative for the digital transgormation of the Romanian business landscape, we joined forces with FitEDIH partners and became an active player in the only European Digital Innovation Hub in Romania – Regiunea Centru.
European Digital Innovation Hubs (EDIHs) are one-stop shops supporting companies and public sector organisations to respond to digital challenges and become more competitive. Under the concept of Futures of Innovation Technology (FIT), they promote technology as the vehicle to take the journey to a sustainable and prosperours future. In this sense, FIT EDIH's main areas of interest are: Smart City, Industry 4.0 (Manufacturing), and eHealth.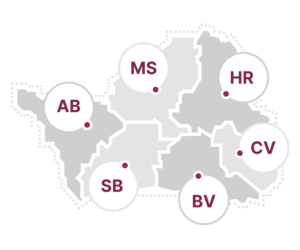 Learn more about FitEDIH
and see how you can benefit.
Innovation. Quality.
Timely delivery. since 1994