Careers

Begin your career
How many interviews have you been through being asked for experience as one of the main selection criterion? Ropardo does things differently and looks for passionate players in a team where they can learn and experiment, so that we achieve together. We have an entire culture built around shaping reliable professionals choosing from young graduates or students in the final years of study.
What?
a technical and skill-oriented training
designed for fresh graduates or students in the final years of study
flexible schedule, adapted to your school program
run on 6 months
built on 2-week sessions, multiple technical tests, and final evaluation
involving in real projects next to an experienced team
possibility to access a junior level full-time job at the end of the training
Why?
TO improve your software development expertise in various phases like design, development, implementation or testing;
TO enrich and consolidate the knowledge accumulated during university classes with notions and abilities actually required when working in the software industry;
TO get used to working in a team and TO gain practical skills so that you will be able to meet the requirements and deadlines of real projects.
How?
The curriculum includes various core subjects such as:
Code Styling, Sorting and Searching Algorithms, Data structures –

Lists

, Trees, Graphs;
Object Oriented Programming, HTML/CSS/JavaScript; SQL &

database

;
Specific trainings in your field of interest (.NET, JAVA, PHP, Android,

iOS

);
Soft skills trainings (UML, Project Management)
Our trainers are part of the team, directly involved in the projects; they are experienced professionals, communicative, open-minded, and willing to share their know-how and shape a reliable member of the team.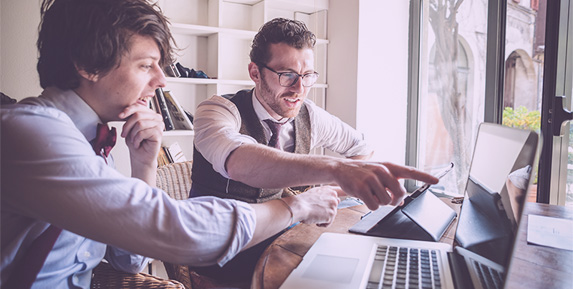 You GIVE
some IT background;
ideally, some competencies in any of the following fields: C#, Java, PHP, iOS, Android;
passion for technology;
wish to learn;
analytical thinking;
team player;
good communication skills;
fluency in English (German and/or French are a plus).
You RECEIVE!
paid training;
some hours of theory;
many more hours of practice;
Ropardo trainers "know how" – senior experienced professionals, involved in training preparation, teaching and assistance;
support in building Web and Desktop Applications
challenge in finding solutions to solve real problems
access to the best technology resources (our engineers know-how)
the chance to join our team, in a permanent job, at the end of training session.
Login steps
2
Screening
your CV is screened according to the basics requirements of the project
3
Interview
face-to-face meeting; identify your skills, inherent strengths and values
4
Technical Tests
check & match your skill set
5
Feedback
the result of the interview will be communicated to you

Ropardo presented the paper ArdoCARE - a collaborative medical decision support system at the 7th International Conference on Information Technology and Quantitative Management (ITQM), organized in Granada, Spain (November 3-6, [...]

The academic year 2018-2019 brings students in the Department of Computers and Electric Engineering of the Engineering Faculty within "Lucian Blaga" University a newly equipped class room for them to be able to participate in laborat [...]

We have opened the application session for Ropardo Summer Practice 2018, an internship program dedicated to ambitious students in computer science to enjoy a two-month business-like experience.
Your inpu [...]
We like IT here

I joined Ropardo as an Academy trainee. I liked Ropardo from the very beginning because they gave me the chance to actually gain knowledge and practice. I also liked being paid as a part-time employee during the training and, after graduation, stayed in the team. It was the perfect start for me! Now, what I most like about my job is that we work in teams on challenging projects and I learn something new every single day and it never gets boring.
Flaviu, Web Programmer
We are waiting for you!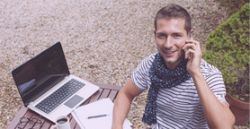 The best for your career is to achieve experience in your area of interest!
If you are interested in being part of our team, please send us your CV.