Careers


Keep IT Simple!
Bring your talent, passion, and commitment among the minds of our team, all in the service of innovative solutions to reSET the world.

We work with the best.
If your CV speaks for you in terms of knowledge, skills, competencies, experience in IT, we will invite you to an interview to prove you are a self-motivated, open-minded, creative, IT-committed team player. Ropardo family brings together colored personalities with different work styles and approaches, but all interested in joining a team where they learn, experiment, and achieve together. Young and dynamic colleagues always help new-comers fit in naturally from the very start and get them into the Ropardo mood.

TEAM – our most valuable asset.
People come first and we treat our staff as innovative thinkers – together is how we find solutions for the future, not by simply assigning tasks. Your ideas will be taken into account at Ropardo. You are part of the team, of the projects, of the company. You matter to us! Your problems matter to us, your passions, your interests, your needs, as well. You are an important player! As we see it, challenging our staff to participate, grow and contribute actively results in creating a friendly work environment where everybody enjoys the success – the company, our people, and finally our clients.

Challenging projects and worldwide exposure
Will create constant motivation, but also enrich your know how. You learn from us as well as teach us, we experiment together, we exchange know how among us, with partners, with clients. All in the benefit of the world – keep IT simple!
You will have the chance to bring your talent and skills in the most challenging projects and will have the advantage of international exposure in by collaborating with multicultural teams. You will be surprised of how many things you can do!
Technical and soft skills trainings
Provided to our employees occasionally or at request to help them grow professionally, never feel behind, but always with a step forward. We also provide full financial and know-how support to enable your certification by one or more of the following Microsoft, IBM, Sun, and/or Oracle. We invest in our people and this is how we cope with challenging and innovative projects. We are also opened to your own requests in terms of professional development.

Balanced work and personal life
– not to count FUN! We like to think that we ensure the work environment that allows you to feel comfortable and enjoy what you are doing. We allow flexible working hours and home office.
And, as much as we would love what we are doing in terms of work, we also like having fun…so there is nothing like our team buildings and parties. We are sure that this is the key of success – inspired people recreating their job, their life, their future, by performing to expectations and meeting company objectives – Innovation, Quality and On-time delivery.

Ropardo presented the paper ArdoCARE - a collaborative medical decision support system at the 7th International Conference on Information Technology and Quantitative Management (ITQM), organized in Granada, Spain (November 3-6, [...]

The academic year 2018-2019 brings students in the Department of Computers and Electric Engineering of the Engineering Faculty within "Lucian Blaga" University a newly equipped class room for them to be able to participate in laborat [...]

We have opened the application session for Ropardo Summer Practice 2018, an internship program dedicated to ambitious students in computer science to enjoy a two-month business-like experience.
Your inpu [...]
We like IT here

I grew up as a developer in Ropardo finding outstanding colleagues here, which is fundamental for teamwork. Here I learned that unselfish effort is equally important with the effort for personal and professional development. Ropardo is indeed a company which focuses on continuous quality improvement, with contribution to work satisfaction, enthusiasm and self-confidence.
Alina, Web Developer
We are waiting for you!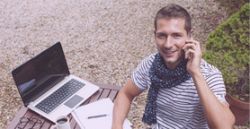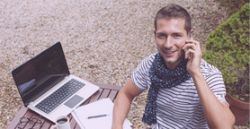 The best for your career is to achieve experience in your area of interest!
If you are interested in being part of our team, please send us your CV.