Ropardo Software Engineering, a well-established company in Sibiu, has been named 'National Winner' in the 2019 European Business Awards, one of the world's largest business competitions.
We were chosen from 2,753 businesses listed as Ones to Watch in July and selected as a National Winner by a panel of independent judges including business leaders, politicians and academics. It is the best business in Romania in the 'Award for Innovation' category and will now go on to represent the country in the final stage of the competition.
ROPARDO created MVP Lab for Minimum Viable Product Development as it is in our culture to develop smart. Trust is the core of the value-added services we offer our customers allowing them to invest smart.
With Ropardo MVP Lab, our partners have the possibility to develop their solution step by step, from concept to a minimum viable product to avoid risks, test the market readiness and responsiveness. Testing the market demand before releasing the fully developed product is the key purpose of developing an MVP. The market reaction tells customers if it is worth expanding their start-up or just stop. This saves them money, time and effort. It also helps shape the value proposition of your products. When the MVP meets all criteria to be launched on the market, we are also ready to make it a hero product. This is the main reasoning behind ROPARDO MVP LAB.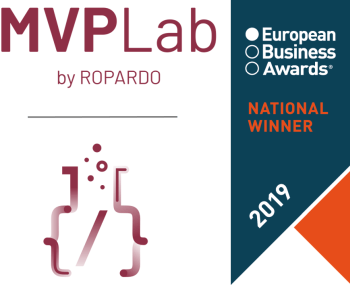 Ciprian Candea, CEO of Ropardo, says: "It is such an honor to be named National Winner for the second year in a row by the European Business Awards. This year we went for the 'Award for Innovation' category because innovation is part of our core beliefs. We founded MVP Lab itself for pioneers, for the bold, for those businesses that want to grow and do it with belief and investment in innovation, thus joining our mission of building solutions for the future, just like us."
Adrian Tripp, CEO of the European Business Awards said: "This is a significant achievement and Ropardo is an outstanding leader in their field. To be chosen as a National Winner means you show great innovation, ethics and success and are one of the best businesses in Europe. We wish ROPARDO the best of luck in the final round."
ROPARDO will head to Warsaw, Poland on the 3rd and 4th of December to complete a final round of judging and attend both a Summit to engage in business issues, and the Gala Ceremony where the overall category winners for the 2019 European Business Awards will be announced.
For further press information or for case studies/interviews, please contact Marketing & Communication Department of Ropardo at +40 (269) 231 037.
About the European Business Awards
The European Business Awards is one of the world's largest and most prestigious cross border, cross sector business competitions. Its primary purpose is to support and develop a stronger, more successful, innovative and ethical business community in Europe, as it believes businesses play a key role in addressing major issues faced across the world.