The shift to the digital is taking place at a rapid pace and shows no signs of slowing down. There is no doubt that the digital age has transformed the way we live and work. This is good news for businesses of all sizes, as it reveals new opportunities and challenges that need to be addressed in today's fast-paced business environment. Digital transformation requires important resource investment and access to training and expertise – areas that small and medium-sized enterprises (SMEs) struggle with.
"As the technology sector continues to grow, so does the demand for SMEs to equip themselves with the resources they need to make the digital transformation a reality. For many SMEs the biggest challenge to successful digital transformation is lack of expertise. Therefore, it's important to take advantage of those opportunities that ensure access to technical expertise and training and support SMEs in their digital journey", says Ciprian Candea, CEO of Ropardo.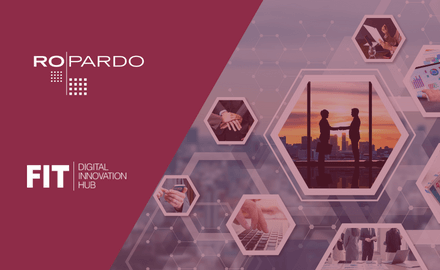 Ropardo is making one major step in enabling SMEs digitalization as a partner in the Futures of Innovation Technologies European Digital Innovation Hub (FIT EDIH) project. We're proud to stand alongside two partners from Sibiu, "Lucian Blaga" University of Sibiu (ULBS) and Smart Factory Association, to help SMEs and public administrations in the Center Region of Romania raise their level of digital maturity. Innovation is part of Ropardo culture and the key competitive advantage we provide our customers and partners in terms of skilled people, future-proof technologies, and R&D passion. Ropardo engages digital technology as an excellent partner for transforming, improving, and delivering revolutionary software solutions in 10+ industries of which manufacturing, healthcare, automotive, etc. Being an active contributor to research and development projects, we stay close to present needs of people and businesses, observe the dynamics, anticipate future needs, and engage our years of experience and broad amount of work to build future-proof solutions.
In both our personal and professional lives, digital infrastructure and technology are essential. They help us communicate, work, advance science, and respond to urgent environmental issues. Digital transformation is no longer a buzzword, so adopting technologies to streamline and optimize processes is no longer a choice; it is a necessity. And Ropardo is here to support ongoing digital transformation of organizations.
About FIT EDIH
The goals of FIT EDIH are in line with both the needs and characteristics of the Center Region and the goals of the Digital Europe Program, with the primary goal of FIT EDIH being to help low level maturity SMEs and public administrations in the Center Region access outstanding digital expertise and support to create the right business environment to foster digital transformation.
Another goal of the FIT EDIH project is strengthening its operational capacity and the development of synergies with the other EDIH and European innovation and digitization networks. Thus, through the FIT EDIH project, two additional fields will be supported in addition to the field of intelligent production coordinated by ULBS, namely public administration, smart city and e-health coordination led by project partners from Alba, Mures, Harghita, Covasna, Brasov.
FIT EDIH received funding under the Digital Europe Programme (2021-2027), a new EU funding programme focused on bringing digital technology to businesses, citizens and public administrations.