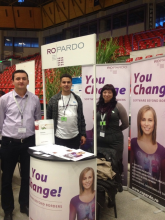 Researchers' Night (Noaptea Cercetatorilor) is an event organized every year in over 300 European cities. This year, in our country the event took place in 14 cities, among which Sibiu.
Locally the event was organized with the support of 'Lucian Blaga' University – our long-term partner in research projects, and it gathered researchers, explorers, inventors, scientists and writers of the genre. By their side, visitors assisted to interesting experiments, conferences, and presentations in a wide range of fields: medicine, archeology, automotive, software, chemistry, robotics, agriculture, physics etc.
As a software expert, Ropardo is constantly involved in European research and development projects and creates solutions for the future together with other partners. Our presentation for Researchers' Night was meant to inform the public about solutions that we developed to keep IT simple: eUniv, eCollaborative, idDesign, eEduQuality. The solutions are innovations in knowledge and document management, business processes management, quality management meant to optimize academic and business processes such as: knowledge and information sharing, decision-making, collaboration, eLearning and many others.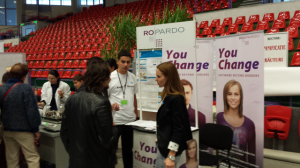 Ropardo fits perfectly in this world of permanent technical innovation that is RESEARCH and it successfully deals with creativity challenges. We were happy to build a bridge to the public and show once again how software development can change the world and make it a better place to live, work and learn.