Always open to what is new and revolutionary, Ropardo SRL shares with its employees its involvement in applied research projects with international exposure in the context of using the most roaring current technology – cloud computing, and its new offerings.
Such a research project is PEGASO (https://pegasof4f.eu), which is meant to promote a lasting change towards a healthy lifestyle, with a holistic and multidisciplinary approach, throwing a challenge on teenagers in one of their favorite areas of interest – digital games.
Within the project, our team was involved in:
– projection and development of PEGASO architecture – definition and implementation of API interfaces – projection and development of a system that can recognise the user's behaviour and lifestyle – development of the social platform that shall be made of different mobile apps (serious game, smart life companion, social network integration, etc.), software for remote access monitoring, data processing and storage modules using Cloud technology.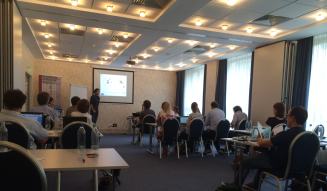 In a relaxing atmosphere, yet enriched by the desire to discover and share knowledge, Cloud&Pizza&Beer gathered together Ropardo team members and representatives of the 14 partners involved in the project with the aim of decoding cloud technology used within this project. Regardless of applications used the cloud is turning out to be the perfect environment for developing business activities. There are plenty of clouds and platform-as-a-services to choose from, but where to start?
Part of the purpose of the event was to show participants how to deploy existing applications written in a language of their choice – Java, Ruby, PHP, Perl or Python, with the JBoss project they want – jBPM, Ceylon, Switchyard, Drools Planner, Aerogear, GateIn, Drools (Rules / BPM) and more, deployed into the OpenShift PaaS in just minutes.
The pizza and beer context gave participants the chance to lead open discussions so that at the end they left the event enriched with much new information and, more important, with many ideas to find solutions for the future. Therefore, mission accomplished for Ropardo!