These days the focus in innovation shifted to Hannover, Germany: five days (March 16th – 20th, 2015) of valuable opportunities to look towards a digital future in industry and every-day life. This year's CeBIT is organized around the idea of digitalized economy, exhibited under the logo d¡conomy, to be implemented in industry with the purpose of improving specific processes.
In such a context, ROPARDO found the perfect opportunity to showcase digitalized solutions with applicability in Sales Force Automation, Tourism, Health&Fitness and Automotive integrated with full-cycle services. Our offering of innovative services is meant to help businesses decrease their costs, while improving their processes.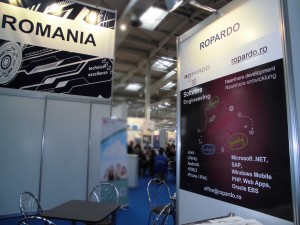 To support our saying, we introduce RobotHMI – an innovative project that ROPARDO is developing and that is expected to change the industry processes, as we know today. We integrate new methods and technologies to create the next generation of HMI for Robots. HMI stands for Human Machine Interface and represents the user interface in a manufacturing or process control system. It provides a graphics-based visualization of an industrial control and monitoring system.
We truly believe that the current digitization trend is one to follow on a long term and software development is the key to change the business model by implementing this digitization in every day work and personal activities. Big Data, cloud computing, mobile access and social and security issues are increasingly interrelated and have major impact on business and society to keep them simple.
Keep IT simple is also the core meaning we give to our expertise and we take it to new heights by bringing out vitalized nearshore software development and server maintenance.