FIT EDIH will be launching an event from 4-7 April in Brasov and Ropardo will be there both as a proud co-partner in the project and as a participant in one of the panels.
The conference will start with a high-level panel, which will be followed by the inauguration ceremony of the international INTEK fair, and will continue with two distinct tracks of workshops dedicated to Smart Cities, Mobility, e-Government, and Industry 4.0 topics.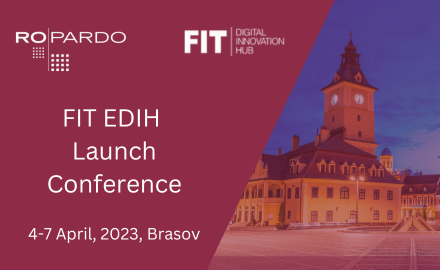 Ciprian Candea, CEO of ROPARDO will participate at the FIT EDIH launch conference as a speaker and will lead discussions on the Future Technologies for Industry 4.0 panel. His participation in the conference will provide an opportunity to showcase his extensive experience and expertise in Industry 4.0 technologies, including smart automation, predictive maintenance, machine learning, and digital twin solutions.
As a committed partner in the FIT EDIH project, ROPARDO is helping SMEs and public administrations in the Center Region of Romania to raise their level of digital maturity.
For more information, please read the press release.