Ropardo presented the paper ArdoCARE – a collaborative medical decision support system at the 7th International Conference on Information Technology and Quantitative Management (ITQM), organized in Granada, Spain (November 3-6, 2019).
ArdoCare – A Collaborative Medical Decision Support System was conferred the
Best Paper Award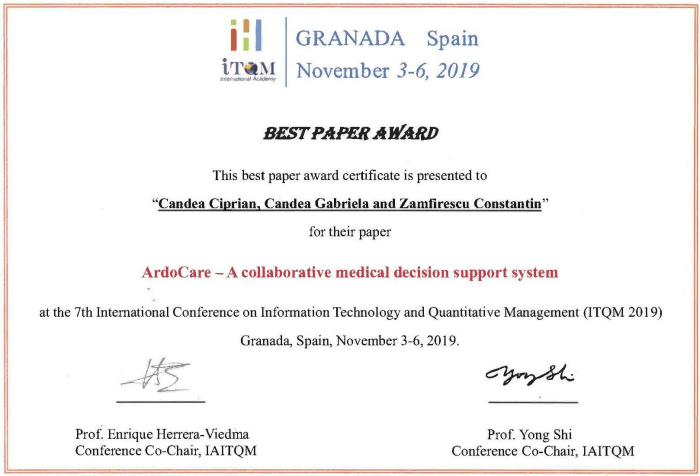 Why ArdoCARE as a collaborative medical decision support system?
Regardless the field of activity, decision makers face the same challenge – dealing with the massive amounts of data they rely their decisions on.
Decision Support Systems (DSS) provide decision-makers with functionalities to exploit various information on which to build a basis for making decisions. In the medical industry, specialized DSS are increasingly used to support physicians in making clinical decisions, thus helping to improve the medical services. The presented architecture makes use of Electronic Health Record (EHR) combined with available technologies and standards, clinical databases and specialized knowledge bases. In the paper, it is presented a specialized DSS that answers the needs of the health system.
That is why a decision-making support tool like ArdoCARE is a requisite in any activity or industry, all the more so in medicine where short intervention time is sometimes lifesaving.
ArdoCare is an innovative product developed in the software development lab of Ropardo. The collaborative medical decision support module is part of the more complex ArdoCARE architecture. Its flexibility allows implementations of separate modules in line with the needs of the medical organization.
TAKE ARDOCARE
About ITQM
The International Conference on Information Technology and Quantitative Management (ITQM), established by International Association of ITQM (IAITQM), is a global forum for exchanging research findings and case studies that bridge the latest information technology and quantitative management techniques. It explores how the use of information technology to improve quantitative management techniques and how the development of management tools can reshape the development of information technology.
More info about the ITQM conference