14-15 of April were really fruitful spring days for this year's edition of 'Infoliceanul': great results and awesome prizes for the winning IT talents, a new partner in the organization and celebration of a life-time career.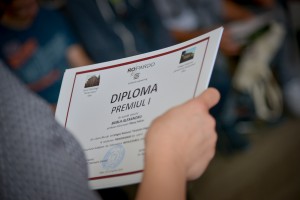 'Infoliceanul' is the first IT&C contest organized for students in all high schools in Sibiu county. This year, the dream team constantly made by "Avram Iancu" Technological High School and ROPARDO, was fortunately joined by "Samuel von Brukenthal" High School in Sibiu, where the Programming competition was held.
A great team of junior and senior software engineers at Ropardo ensured valuable support for the same Programming competition. Finally, we rewarded winners with well-earned prizes and we did not forget about the IT laboratory of the "Avram Iancu" Technological High School, either, as a recognition of their constant efforts in organizing the contest.
To save the best for last, we want to congratulate Mrs. Monica Tripon for her 23-year-old commitment in organizing 'Infoliceanul' contest by our side. Her contribution to the young IT community in Sibiu is priceless.