The current globalization steer of economy bound companies to gain a competitive advantage by cutting their costs, optimizing efficiency, and offering great customer service. And what's more, they have to do it fast not to be left behind with all the speedy pace of the market. How can they do that? Well, outsourcing software development is the one highway to success. Companies all over the world have proven it so.
Why outsource in the first place?
Outsourcing is the collaboration with external providers, from the same country as yours or from abroad (nearshore/offshore), to execute specific processes, like software development.

IT companies choose to outsource software development nearshore or offshore to develop custom applications with reduced and controlled costs and risk, while they can concentrate on new lanes to grow (like marketing). We refer here especially the human resources related costs although outsourcing is not only about cost savings. Outsourcing software development processes nearshore or offshore to a proven provider comes with highly qualified personnel. This in turn means a solid competitive advantage for IT companies or departments, and we all know that today time waste is money loss.
Compared to having in-house teams to attend to the custom software development project, outsourcing the process brings you the following advantages:
Responsibility and risks regarding the project are managed by the custom software development provider
Specialized resources, qualified and experienced in software development projects
Resources will be dedicated to the project only during the contractual period
No need to recruit new specialists or to invest in team building activities
Where to? Romania on the IT map
If a few years ago India was preferred mostly for the low IT costs advantage, now other countries such as Romania or Ukraine are favored for responding to expectations both in terms of budget and quality. Offshore Romania, a 2015 report by Pierre Audoin Consultants (PAC) presents Romania as the ideal outsourcing alternative to India, due to the highly competitive costs and the rich supply of IT specialists with excellent technical and linguistic skills.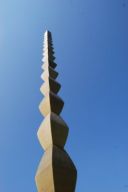 Other studies report that Romania has a reputation as a growing center of software and services expertise. At a global level, in 2012, Romania was ranked 6th in the top 10 emerging outsourcing destinations published in Times Outsourcing Business supplement. In 2014 Romania occupied 5th position among the most attractive outsourcing destinations in Europe (A.T. Kearney index). In their study "Romania as the destination for SSCs and BPO", KPMG ranked Romania as the fastest growing market in the European Union in terms of IT outsourcing services.
Located in an Eastern Europe, where beneficiaries could easily choose among obviously more mature IT markets (Poland, the Czech Republic, Hungary or Slovakia), Romania is however the preferred outsourcing destination, as shown by Pierre Audoin Consultants in the study "Software and IT Services in Romania – Current Situation and Outlook in a Local and Global Environment in 2015" conducted for ANIS (the Romania National Association of Software Industry). With a 20-year steady growth, the Romanian IT and software market is now stable and substantiate, as ANIS concluded based on the following:
total software and IT services sector in Romania accounted for EUR 2.4 billion
growth rate of 12.5%, that is 4.5 times faster than the country's GDP for the same period
largest share in GDP so far (2.5%) with over EUR 4 billion potential before 2020
50 offshore centers of which more than half are BPO centers, 30% are IT services-related centers, and around 20% are R&D facilities.
exports generated almost EUR 1.5 billion in 2014
export of software and IT services in 2015 is estimated to be 1 billion euro than 5 years ago
Romania is ranked 1st in Europe and 6th in the world judging by the number of certified IT specialists, being the happy owner of a pool of about 100,000 people in various IT-oriented profiles. Meanwhile, the Romanian Ministry of IT and Communications reports over 60,000 people currently working in the outsourcing sector. This is a logical consequence of the 5000+ engineers and computer science graduates provided every year by the 40+ profile universities.
Sibiu – an idyllic IT destination
Forbes ranks Sibiu 8th Europe's most idyllic place to live in. Sibiu is also the place several IT multinationals chose for their Romanian branch to be located in. The medieval city is part of a history with solid roots in the Western civilization which helped build the local open-mindedness and innovative spirit. Though well grounded in its tradition, Sibiu enjoys modern communication ways which makes it easily reachable by plane , by car or by train.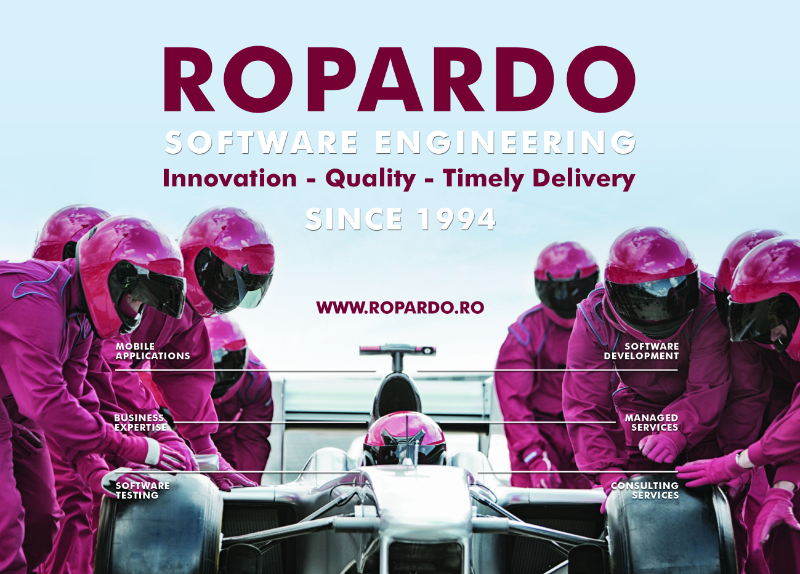 Ropardo – Software Engineering since 1994
For us at Ropardo, Sibiu is the community we happily live and work in. Sibiu has one of the most famous universities in the country with a reputation for talented and well prepared engineers. ROPARDO has developed a strong collaboration and have been working on successful research projects with 'Lucian Blaga' University of Sibiu. 40% of our engineers are graduates of the University.
ROPARDO is an independent leading software engineering company providing customers with key competitive advantages – Innovation, Quality, Timely delivery, since 1994. With the latest tools and agile methods, we create beautiful highly performing products and platforms as well as user-friendly mobile, cloud or web applications.
How we make 50+ customers happy by being their reliable nearshore / offshore partner:
technical skills of our professionals
mastering tools and technologies that are the standard now and in the future
flexibility of business models
lack of culture and language barriers
competitive labor costs
50-75% cost savings
international exposure in research projects
innovation as part of our culture
"Time-Quality-Budget" is our formula for success!