All students are natural scientists and engineers. They love to question, experiment, and play. Big news for all those creative students, passionate about robotics! We are thrilled to let you know that Ropardo, alongside Smart Factory Romania Association and its other partners, is kicking off the student-dedicated Build-a-weather-station contest.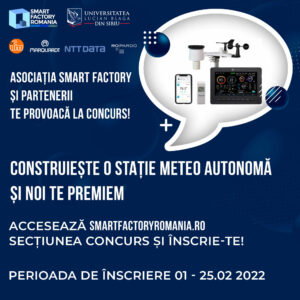 Here are some important details about the contest:
➡ Task: making an autonomous weather station, using 2 specific sensors, storing and interpreting the data provided by it.
➡ Registration: February 1-25, 2022
➡ Competition: March 3 – April 1, 2022
➡ Who can sign up: students regardless of the year of study, passionate about electronics, robotics, automation, marketing, regardless of the specialization they follow.
Find out more about the prizes offered, regulations and registration on the contest page.
About Smart Factory Romania
Smart Factory Romania is a non-profit organization from Sibiu, set up in 2020. Conceived as a national ecosystem, the objective of Smart Factory Romania is to support the capacity of Romanian companies to research, innovate and develop by creating a community of experts. The partnership also focuses on intensifying investments in research and innovation, essential actions for the future of industry and production in Romania.
Participants in various research, development and innovation projects, the expertise of Smart Factory Romania members covers a wide range of know-how, from defining the vision of a system, product, or service to its development as an industrial implementation in production.