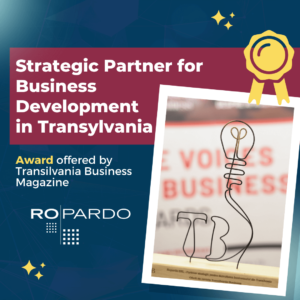 We feel honored for having been invited at The Voices of Business Awards by Transilvania Business Magazine and being recognized as strategic partner for business development in Transylvania and Banat regions.
It happened this Thursday, March 17 in Sibiu during a great event that offered the opportunity to meet inspiring leaders and pioneers in their area of business. We really felt that together we can do great things for our region.
Community is a powerful word for us and a powerful instrument for the general growth and well-being. Ropardo is always there to give a hand, sometimes is about education and development, other times about social initiatives and care giving, this time is about the business community.
Transilvania Business Magazine has been in the market for 12 years. With 10 publications per year and 6000 copies / edition, it is the only premium publication in Romania that addresses and promotes economic dynamics in Transylvania and Banat, but which also presents business projects or companies of national scope from the other regions, supports entrepreneurship and business investments, connects Romanian businesses.
For more info about the event and the magazine, go here