ROPARDO software engineering company located in Sibiu, Romania, announces its 16th presence in a row at CeBit, Hannover (March 20-24) with new staff augmentation solutions dedicated to custom development projects as a cost-convenient alternative to in-house resource extension for top quality parameters.
We build innovative digital systems that enable companies cope with the dynamics resulting from the drive to reduce costs and improve operational efficiencies. With our staff augmentation packages, users enjoy:
fast expansion of the pool resources
avoid staff burnout / leverage existing resources
dedicated resources to your business particulars
right level of technical qualification
eliminate risks resulting from full-time hires
As a proof of our staff augmentation solutions we are going to animate our booth with a generous range of custom-made applications and a series of own products. Healthcare monitoring (ZivaCare) and human-machine interaction (RobotHMI) application are on this year's agenda.
ZivaCare provides a secure Cloud environment to gather, store, and exploit body/health data in a variety of purposes: be prepared for emergencies, stay fit, manage specific health conditions.
RobotHMI on the other hand offers an improved human-robot experience with easy control, personalization and monitoring of the exoskeleton ultimately to enhance industrial production.
Each system in turn integrates mobile applications, web portals (including user profiles, Document Management System) and wearable devices serving its specific purposes: for example, blood pressure monitors, blood glucose monitors or weight scales for health; and exoskeleton, a smartphone and interactive glasses for heavy industry.
ROPARDO has the tools and the competences to make ever-adapting mobile solutions for enterprises. We handle naturally ultimate technologies and high performance API development to safely manage Big Data content in these systems.
Learn more on: ropardo.ro/mobile-development, ropardo.ro/projects, nearshore-romania.com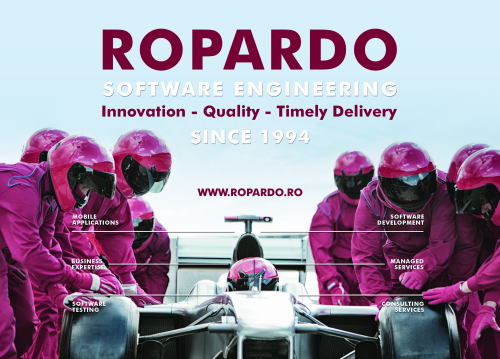 About ROPARDO
ROPARDO is an independent leading software engineering company providing customers with key competitive advantages – Innovation, Quality, Timely delivery, since 1994. With the latest tools and agile methods, we create beautiful highly performing products and platforms as well as user-friendly mobile, cloud or web applications.