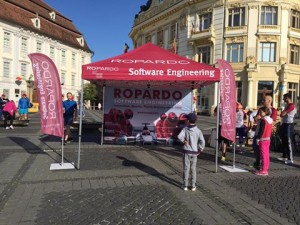 After years of traditional team events, ROPARDO-Keep-IT-Simple team has tried one first this year at Sibiu Semi-Marathon. The event organized by the Fundatia Comunitara Sibiu on May 28th, 2016, this year at its 5th edition, is a fundraising sport event for local community causes.
We rolled in for "Dam Startul in Viata" cause submitted by BabyCare Association for purchasing modern equipment in the Neonatology Section of the Sibiu County Hospital serving the premature newborns. Beside the financial contribution of the company, we were happy to have 14 colleagues involved as runners and fundraisers in support of the cause. We are thankful to all colleagues who supported them and the cause.
If this year was for training, next year we go for a medal!