Day 4: Final day…but new resources to do great things in the time to come!
At the end of four challenging days, we can say we are richer in knowledge, ideas, plans, but also in vision and understanding. We have met valuable people, listened to great minds sharing a fortune with us, and let others learn from us!
We opened the path to great opportunities and are looking forward to go back home and get down to work.
Stay tuned for a new project to come in which we will build an app which will use pure entertainment (games) to help people achieve their goals remaining motivated by things they enjoy. Games can help people to learn or to do physical exercise having fun, transforming every important task in a pleasant experience.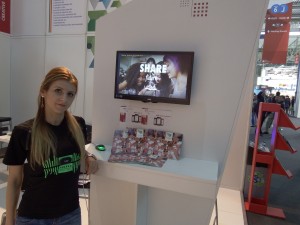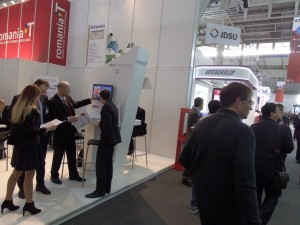 Day 3: Still here, still talking mobile!
Reliable Mobile Applications are what enterprises need today to keep up to evolution and competitive markets.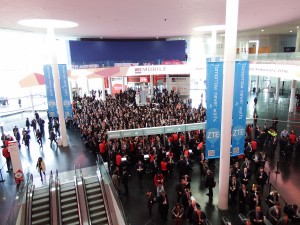 At ROPARDO we employ in-house resources to provide full support in consulting, developing and maintaining the most suitable Mobile Apps, tailored for each and every customer to get their businesses mobile. Our range of Mobile Application Development platforms includes Android, iOS Development, Windows Mobile Application, Mobile enabled website development.
Our solutions with applicability in Sales Force Automation, Tourism, Health&Fitness and Automotive are integrated with full-cycle services which offer high-level functionalities:
Connected and Disconnected Mode Application
Synchronization with your Enterprise Database SQL / Oracle
SQL Mobile & Oracle Lite Support
Integration with Enterprise Database using XML / Replication
Windows Mobile Development
Mobile enabled website development
J2ME based Mobile Application Development
Android – Google mobile hosted solution
iPhone Mobile Website Development
The new end-to-end solutions cover all needs but can be easily tailored on the needs and specifications of customers.
Day 2: The world can live a better future!
Just an ordinary T-shirt? No! It's a smart T-shirt with integrated sensors to transmit data to mobile devices. It is why our visitors were impressed with it!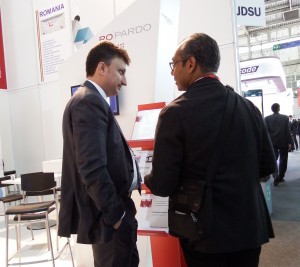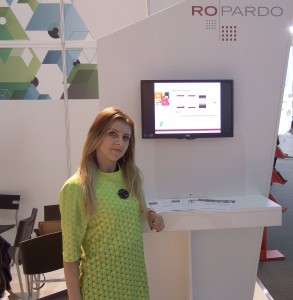 Taking into consideration the current social trend towards bad-health aging, increase of obese toddlers and teenagers and major risk for disabled and diabetics people, ROPARDO has developed personalized solutions for Work and Fun activities to monitor and inform on the health condition of the above-mentioned categories, but also to create the context to do such activities.
We are proud to contribute with:
Apps for continuous monitoring of user's physiological parameters, such as Heart Rate, Respiration Rate and Movements
Integrated Data Platform for user data collection and distribution
Day 1: MWC has started and ROPARDO team is here!
Our agenda is filled with pre-scheduled meetings. And we hereby want to give many thanks to all those who heard us and proved interest in our proposals for discussions. We are looking forward to valuable information exchange in all matters concerned. We too will give way to invitations received.
This year's releases by ROPARDO are cutting-edge mobile apps applicable in healthcare. We developed smart software to capture, store and share data from advanced sensors integrated in user's wearable items. Communication with the mobile devices ensures setting warning alarms and/or SMS to be sent to a list of contacts.
Beneficiaries of our heart rate and respiration rate monitoring apps, as well as plantar pressure measuring apps are people diagnosed with heart conditions and/or diabetes. Moreover, such apps can be successfully implemented in professional clinics, health clubs and fitness rooms with the aim of monitoring the patient's/user's health condition in general or during physical effort stressing vital organs.