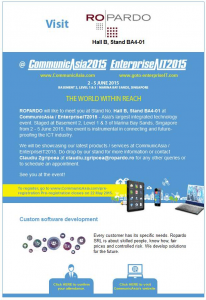 New occasion for ROPARDO to share experience, showcase its expertise, and increase partnership opportunities comes with the CommunicAsia2015, hosted by Marina Bay Sands Singapore, on 2-5 June 2015.
CommunicAsia2015 will unveil the latest innovative technologies from Big Data, Business Analytics, Cloud technologies, IoT, to Zigbee. Such headways are poised to change the way we live and work.
Keeping pace with the fast industrial evolution, ROPARDO offers software development to change the business model through a digitization of every day work and personal activities. Big Data, cloud computing, mobile access and social and security issues are increasingly interrelated and have major impact on business and society to keep them simple.
Want to know more, we will be waiting at the event or you can follow updates in our News & Events section or on