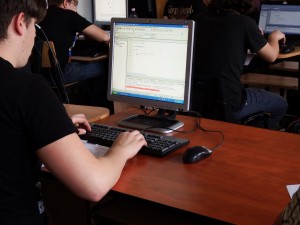 Marking its 22nd edition, this year IT contest "Infoliceanul" brought together a higher number of students and visibly better results. Enthusiastically organized by 'Avram Iancu' Technological High School in Sibiu and ROPARDO, the contest welcomed 9th to 12th grade students from high schools all over the county.
Tradition was kept in what concerns the contest sections: Power Point presentation, Website Creativity, Autocad and our dearest Programming. As usual, part of our team was close to the students, from choosing the right problems for them, support during examination to evaluation and prize-giving day. What is new, starting this year, is the contest's own website where students, teachers and anyone interested can find information about the contest, participants and results. You are more than welcomed to visit www.infoliceanul.ro.
Once again we gave our best to contribute to community development through education, as it has become a pleasant habit for ROPARDO to get engage actively in local social awareness projects and programs.