The business agenda looked very crowded for Ropardo in September. Among the events, Mobile World Congress, the fall edition, 28-30 September 2022. Everything that happened in Las Vegas didn't stay in Las Vegas and our colleagues are sharing all the insight from the event – Claudiu, Director of the Technology Competence Center, and Ciprian from the Business Development department.
Below we are sharing with you what the rest of the team was curious to learn from them about their experience at the Mobile World Congress in the country that sets the innovation time.
1. We are constantly participating in events, most of them are in Europe, for instance MWC Barcelona years in a row. How did a Mobile World Congress look like in Las Vegas? What did it bring different?
Ciprian: First, we have to admit that the exhibition was at another level from what we were used to. Yes, you could say that it's the city-of-lights effect, but that is not all. There were technology leaders and decision makers, innovative thinkers among the exhibitors, breathtaking demos, huge energy – everything connected across a 600,000 sq ft show floor. The focus was on 5G Connect, Internet of Everything, Tech Horizon and CloudNet.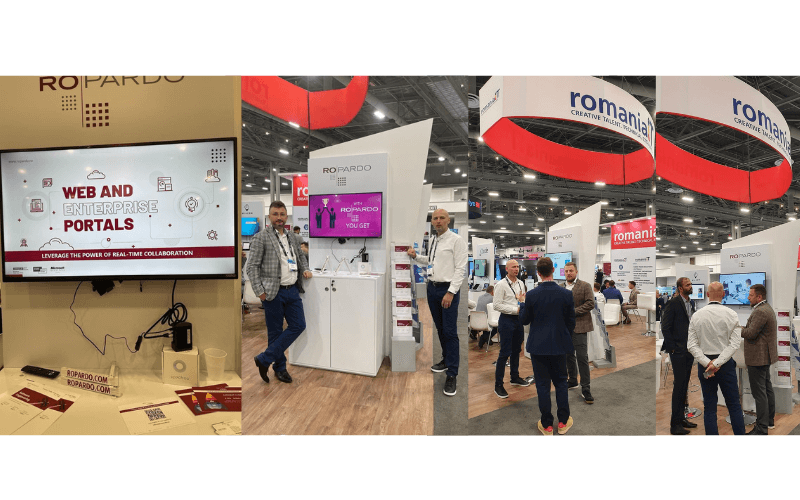 2. Any revelation from the country that sets the innovation time?
Claudiu: You should have a partner in that part of the world to be permanently connected to their market. Also, there is no product without marketing, people need to find out about your product. So, the marketing budget is a key part of a software product strategy. We were glad to have this reality presented openly to the business scenery since we totally agree.
3. Can you name three innovations that got stuck with you post-MWC?
Ciprian & Claudiu (at once): Digitalization, digitalization and digitalization.
Claudiu: It's the country where everything is digital from business cards to business applications and personal life.
4. We participated, together with Spectro:o, our partner in digital signage, as a member of the RomanianIT party. How does the Romanian technological landscape look like when displayed on the US technological market? Are there really major differences in capabilities and innovation?
Claudiu: Romanian software development capabilities are very appreciated in the US market. Participating at MWC was an excellent opportunity for new partnerships that were born from a perfect mix of software skills and long-term vision to respond to society needs and trends. So I would say the two markets, although an ocean apart, are perfectly completing each other when it comes to digitalizing the world.
5. What is the greatest value, in your opinion, the event brought to the company, and by extension to our clients, as part of our business ecosystem?
Ciprian: For us, it unleashed tones of new ideas and the innovation we came in contact with will surely serve our projects and clients on the long run. Inspiration was huge in terms of technology, digital transformation, mobile and web applications. Also, we became aware or were confirmed of the challenges in the IT industry and ways to cope with them. Being prepared for constant change is a healthy approach.
6. MWC Las Vegas is one of the first places we have attended after the pandemic break. What was it like?
Ciprian: Next to MWC Barcelona in March, indeed MWC is one of the largest events I attended after the pandemic. People are rather focused on their business and, thanks to the digitalization capabilities made possible by the software development industry, there hasn't been a feeling of disconnection at all. As a matter of fact, I met with partners and future clients that I talked before online and interacting with them face to face was a natural extension of our Skype talks.
7. Did you get the chance to meet our clients in the US?
Ciprian: Actually, we did. I was happy to meet some of my clients in the US and strengthen our business relationship face to face. I also noticed that when you have a common goal, in this case digitalization and making business processes accessible from anywhere, there's nothing that stands in your way, not even distance or time difference. I have an inside joke with our clients in US: We run your business while you sleep, by this meaning of course that our automation applications help their business work round the clock.
8. How do you assess the event contributed to your sales activity?
Ciprian: I was happy to meet again with older business partners and retake it from where we were left. But 10% of the contacts is new business whether its project-based and staff augmentation sales or technological partnerships. Our portal-like solutions, Spectro:o Digital Signage and T-Space Document Management met a very wide and engaging market in US.
Thank you, guys, and cheers to you for a job well done! You will rock it again next year! Until then, keep up the good work and enjoy the success!