Internet & Mobile World 2015 on October 7-8th in Bucharest put on a great variety of useful talks and stands. Ropardo gladly contributed to one of the speaking sessions – the panel Innovative Strategies for Mastering the Outsourcing Landscape.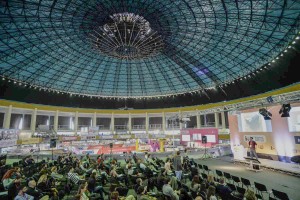 With a 20 year experience in the field, our CEO, Ciprian Candea, recently appointed Vice-President for International Relations for ANIS (Employers' Association of the Software and Services Industry), gave a substantial description of the IT&C market and forecasted pertinent tendencies for the year to come as to the Romanian outsourcing market.
IT&C is the second largest contributor to the economic growth of Romania and revenues are covered 65% by service export. To further encourage this trend, a sustainable outsourcing in Romania can be ensured by keeping our talents "at home" and software companies can do this by keeping close to universities and profile faculties. We also find it inspiring the settlement of internship laws to support companies in training senior students and fresh graduates for their natural insertion into the labor market.
Such strategies have been successfully applied by our company, covering requirements on the market, both local and international.
Photo credit: www.imworld.ro