Research is the distance between an idea and its realization, said David Sarnoff.
We are proud to announce that Nestore, one of the EU research projects Ropardo participates in, holds its final workshop, as an online event on February 25th 2021.
The aim of this online event is to bring together voices from the European Commission, Nestore partners such as Ropardo and other project representatives. Designers, developers, users, public authorities and businesses are invited to explore the lessons learnt in more than three years of activity, and to exchange with other PM-15 partners what is worth being shared in terms of co-design, technology and user experience.
For more information about the Nestore integration system delivered by Ropardo, please read this article.
"Nestore is a research project gathering 16 partners form 8 European countries. We are proud that Ropardo represents Romania as one of the research partners. eHealth has been an area of interest for Ropardo in the recent years and we do have the expertise to be trusted complex software development projects for healthcare benefits", says Ciprian Candea, CEO of Ropardo.
Registrations for the workshop are open here.
Click here to join the workshop.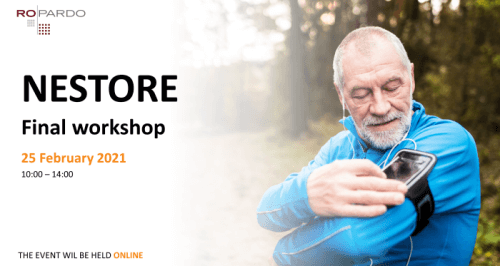 About Nestore
Non­intrusive Empowering Solutions and Technologies for Older people to Retain Everyday life activity,
Nestore
is an innovative coach that aims to accompany people as they age by offering personalized advices and decision-making support so that we can maintain our well-being and extend the number of years we live independent.