ROPARDO announces its presence at the world's greatest mobile event Mobile World Congress in Barcelona, Spain (March 2nd-5th) with new mobile apps resulted from the extraordinary work and effort of a committed team, innovative ideas and better shaped processes of the company.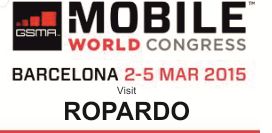 In an ever expanding and fast-paced world, enterprises need Mobile Applications to keep up to evolution and competitive markets. Concentrating with full strengths on innovative solutions to meet the most complex business requirements, ROPARDO is a resourceful partner for businesses to go social
and open, to be on the market, to go mobile.
On the occasion of the MWC event, ROPARDO introduces successful mobile apps for businesses operating in a range of areas including logistic industry, distribution, medical applications, information services, community portals, mobile web, social network integration. Our solutions with applicability in Sales Force Automation, Tourism, Health&Fitness and Automotive are integrated with full-cycle services which offer high-level functionalities:
Connected and Disconnected Mode Application
Synchronization with your Enterprise Database SQL / Oracle
SQL Mobile & Oracle Lite Support
Integration with Enterprise Database using XML / Replication
Windows Mobile Development
Mobile enabled website development
J2ME based Mobile Application Development
Android – Google mobile hosted solution
iPhone Mobile Website Development
The new end to end solutions cover all needs but can be easily tailored on the needs and specifications of customers.
"As we speak, we are living the mobile revolution implemented by ROPARDO in our company and it surely optimized our internal processes" says the CEO of a distribution company.
Download the press release here