Update: After CeBit
If you missed our colleagues at Cebit, get in touch to see what best suits your business.
ROPARDO has the tools and the competences to make ever-adapting mobile solutions for enterprises. We handle naturally ultimate technologies and high performance API development to safely manage Big Data content in these systems.
Update: We are waiting for you at our booth G02 in Hall 6 with a generous range of custom-made applications such as these two heroes in our product portfolio: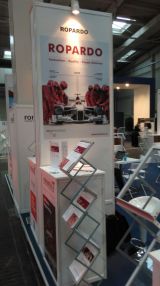 zivacare.com provides a secure Cloud environment to gather, store, and exploit body/health data in a variety of purposes: be prepared for emergencies, stay fit, manage specific health conditions.


robofuse.com on the other hand offers an improved human-robot experience with easy control, personalization and monitoring of the exoskeleton to enhance ultimately the industrial production.


Each system in turn integrates mobile applications, web portals (including user profiles, Document Management System) and wearable devices serving its specific purposes: for example, blood pressure monitors, blood glucose monitors or weight scales for health; and exoskeleton, a smartphone and interactive glasses for heavy industry.
Look for the Formula 1 Hall 6 – Booth G02
Original news:
We're in Hanover again. We've enrolled for our 16th consecutive Cebit edition to witness and contribute to the digital transformation. From 20 to 24 of March we are waiting for you at booth G02 with innovative digital systems that enable companies cope with the dynamics resulting from the drive to reduce costs and improve operational efficiencies.