Technologies
PostgreSQL: The power to run businesses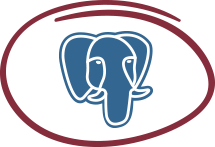 PostgreSQL is a powerful, open source object-relational database system with strong reputation for reliability, data integrity, and correctness based on a proven architecture.
We endorse PostgreSQL for being an enterprise-class database management system, with sophisticated features, allowing a high degree of database application customization, and supporting more than a dozen programming languages, including Java, Perl, Python, Ruby, Tcl, C/C++, and its own PL/pgSQL.
PostgreSQL is a rewarding development platform upon which our engineers develop in-house, web, or commercial software products that require a capable RDBMS.
Service Offerings
Ever since 2000, our database engineers have continuously capitalized their knowledge to develop PostgreSQL applications to be used in:
eCommerce
Web applications
Enterprise back-end for ERP systems
Data warehousing, business intelligence and "Big Data"
PostgreSQL consulting services from ROPARDO means a database experts assigned for you, who will supply consulting and engineering tailored on your needs on a wide variety of goals, such as:
PostgreSQL administration, performance,
Development of stored procedures
Migration to PostgreSQL
Replication, backup and disaster recovery
Database security
Application scale-out
Integrating PostgreSQL with other database systems, example: MySQL, Redis, SOLR and Hadoop
iOS and Android application development
Following the consulting stage, we will work together on a mutually designed plan that suits your needs and wishes.
How we succeed
Transparency and Communication are key differentiators in our relationship with customers, based on complete visibility from day one of your custom development project. We work with you to shape the right engagement model, delivery method and custom solution to meet your needs. Our communication lines are always open throughout your engagement via email, phone, chat, Skype.
We apply an agile methodology for consulting and software engineering services, consisting of the following major activities:
Business strategy and goals review
Requirements and use cases
Proof of concept(s)
Architecture and design
Implementation and testing
Production deployment
Training and knowledge transfer
Innovation, Quality, Delivery on Time
have been our objectives since 1994.
Start a project with us!