Competencies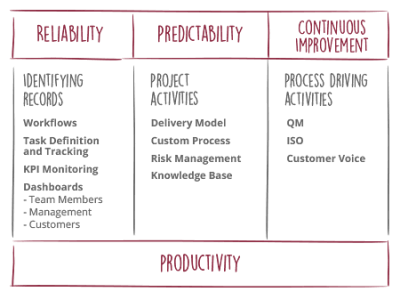 QUALITY PILLARS
ROPARDO ensures Quality Assurance at all process levels and in every activity related to nearshore / offshore software outsourcing projects.
They are all conducted according to project management methodologies and the PDCA (Plan-Do-Check-Act) principle.
Quality Assurance is the natural result of three main productivity pillars.
Identifying records

Our project tracking and control strategy is based on the digitization of all our processes. Digitized processes enable real time tracking of metrics, SLA compliance, and increased efficiency enabled by the methodologies used in project management. This provides:


visibility
full control and real time information on our processes
full control and real time information on services delivered

Project activities

A key element in the Ropardo quality assurance strategy is that all projects are managed according to Agile methodology. We also have years of experience with PRINCE2 and RUP, if the project requires so.

Process driving activities

Our organization takes care of all the business activities. For this we follow ISO procedures to ensure:

modern infrastructure suited for its activities;
processes, performance and integrity criteria;
technical and managerial skills;
team spirit and excellence-oriented organizational culture.
Project management in IT
According to our methodology, quality considerations begin with understanding the quality expectations of our client and the final user.
To agree on a plan for any software development project, the client and the services provider need to have a common understanding of quality – use of the best resources, expert workforce, and permanent control during the entire project.
Quality must generate a balance between cost, time and the final software product. Understanding requirements and setting up quality standards before starting the software product development is essential to ensure the project's success.
Innovation. Quality.
Timely delivery. since 1994