References
Oracle EBS Solution – development of customized functionalities
About CARMOLIMP

Founded in 1993 as a family business, CARMOLIMP developed rapidly into a major player not only on food market in Romania but also in animal husbandry, agriculture, and construction.
The consequences of addiction to excellence can be seen in all products CARMOLIMP ®, regardless of the brand these products bear.
Further info at: www.carmolimp.ro

About Ropardo

Ropardo is an IT group with solid turnover and over 50 skilled employees. Innovation, Quality, On-time Delivery have been our constant objectives.
Our main expertise is in: software development, implementation of complex software solutions and maintenance of software/IT systems.
We provide the following insince various industries: app and system development, business apps – ERP / CRM, web apps and e-business / eCommerce, software reengineering, software testing, maintenance and support.
Further info at: www.ropardo.ro
LEVEL of SERVICES
SOFTWARE CONSULTING
Requirements management
System analysis
Risk analysis
Process management
SOFTWARE DEVELOPMENT
Arhitecture design
Implementation
TESTING / QUALITY
Functional testing
Unit testing
Automated testing
Load/Performance testing
Static testing
since 2006

Oracle products are delivered at high standards
Technology competences – install and administrate Oracle database and applications
ERP competence – complex implementation of Oracle e-Business Suite
Outsourcing to Ropardo

Quality custom software development
End -user satisfaction
Short time to market
Quantifiable value
Guaranteed performance level
Reduced and controlled costs
Managed risks
Good value-for-money
Flexibility
Contact
Ropardo S.R.L.
Mr. Claudiu Zgripcea
Reconstructiei 2a
550129 Sibiu
Tel.+40 269 231 037
Fax +40 269 231 037
"The new solution allowed us to do lots more things and the overall activity is now more efficient."
Challenge
At the time the customer was running a premium ERP solution – Oracle E Business Suite was looking for a special module that had to cover business flows for animal husbandry activities.
In this sense, they asked for:
Setup / Lists (Care takers, Livestock categories, Sections/Locations, Items/Products, Medicines, Fodder)
Livestock management (Move, slaughter, etc.)
Reproduction management
Products management (stock load with specific items)
Fodder (Acquisition, Production, Recipes, Consumption)
Medicament Management and medicine tracking
Reports
Full integration with existing ERP solution
Solution by ROPARDO
Ropardo has the necessary experience and technical expertise and most of all the pre-qualified human resources which are skilled in the particular domain of ERP – and especially on Oracle E Business Suite (EBS) required by the project. They have already worked on a large number of projects in the area, thus gaining long-time experience, which allows them to avoid downtime, since they have already encountered specific domain problems, have successfully dealt with them and have ready-made answers for most issues.
Technologies
ADF Faces have been used for the visualization and data acquisition (View – the presentation), ADF Business Components for the data processing (model – the business) and JDBC / POJO / ADF Business Components for the persistent data.
The module runs inside the Oracle Application Server and is integrated within Oracle E-Business Suite via connectors and interfaces.
The integration with Oracle EBS module uses nomenclatures and workflows within the suite without the need of duplication.
Data security is ensured by using EBS responsibilities.
Reporting is realized with Oracle XML Publisher.
JUnit ensured standardized testing of application components.
PMD was used for quality code.
SVN was used to manage code and facilitate collaborative work.
Project Approach
After having unsuccessfully searched over Oracle EBS existing modules, ROPARDO team of business consultants proposed a customized module to respond to the customer's requirements.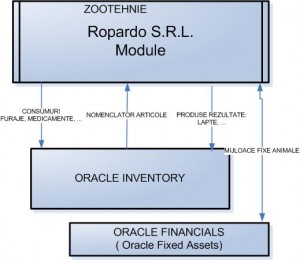 Based on our previous EBS technical experience combined with our consultants' deep understanding of the customer's business activity – animal husbandry, we designed a brand-new EBS module.
After the development phase, ROPARDO delivered:
The application integrated into the EBS production instance (i.e. application form of war and ear; database as SQL scripts, etc.)
All exploatation and administration documentation
Procedures for quality assurance and tracking
The project was conducted using Oracle AIM (Application Implementation Methodology) because our team is familiar with this project management methodology that ensures all necessary tools and documentation.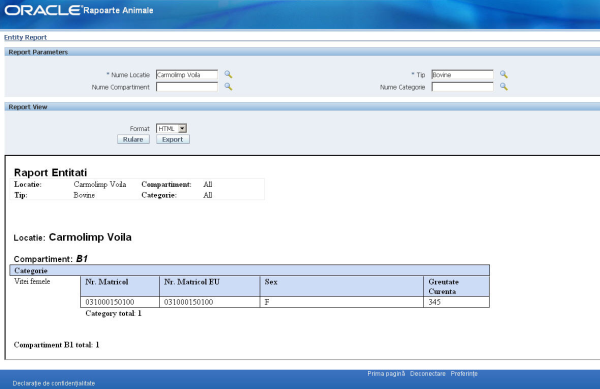 Benefits
Business flows specific to the customer's activity
Request, procedure and process optimization
Responsibilities per user profile
Information management on the Internet
Process and report standardization
Rapid access to information for the company management
Stock inventory, purchase planning
Efficient overall activity
Cost control
Asset management

Download case study
Download EN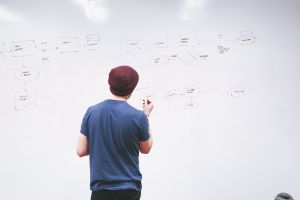 Innovation. Quality.
Timely delivery. since 1994