References
Full WordPress Development Solutions

About the Customer

Happy Day Pension offers high- standard hospitality services blended with traditional values. High-quality accommodation services come together with friendly and professional staff for business travelers and personal purposes. Fabulous-ranked pension is recommended by renovated accommodation, professional staff and friendly atmosphere. Further info at: www.pensiuneahappyday.ro

About ROPARDO

ROPARDO is an independent leading software engineering company providing customers with key competitive advantages – Innovation, Quality, Timely delivery, since 1994. With the latest tools and agile methods, we create beautiful highly performing products and platforms as well as user-friendly mobile, cloud or web applications to increase speed-to-market and deliver more frequent releases. Well-grounded in the Agile state of mind, our engineers are flexible in responding to any challenge. Yet, we have been here and successful before the Agile era, so trust us for classic approaches.
Further info at: www.ropardo.ro
LEVEL of SERVICES
SOFTWARE CONSULTING
Requirements management
System analysis
Risk analysis
Process management
SOFTWARE DEVELOPMENT
Architecture design
Implementation
Project management
Software test
SOFTWARE SERVICES
Software Maintenance
Performance tuning
User training
TESTING QUALITY
Functional Testing
Load/Performance Testing
Automated Testing
Unit Testing
STANDARDIZED ITMS SERVICES
Change management
Problem management
Incident management
Release management
Outsourcing to Ropardo

Quality custom software development
End-user satisfaction
Short time to market
Quantifiable value
Guaranteed performance level
Reduced and controlled costs
Managed risks
Good value-for-money
Flexibility
Contact

Ropardo S.R.L.
Mr. Claudiu Zgripcea
Reconstructiei 2a
550129 Sibiu
Tel.+40 269 231 037
Fax +40 269 231 037
"Our website tells our story. Ropardo web development team was the artist to write it in an interactive experience for our visitors."


Challenge
Fabulous-ranked pension hired Ropardo to rebuild their presentation website and to include an online shop.
The client delivered a business requirements for the development of a single page website, for which we made some recommendations to boost the product-to-be. Once the requirements of the project agreed to the last detail, we were ready to do our thing.
Solution by ROPARDO: Custom WordPress Development
ROPARDO capitalizes WordPress functionalities to architect and build forefront web and mobile experience for the customer's visitors. With a solid web foundation and our developers' know-how and experience we guarantee success.
We installed a multipurpose theme, improved with customized plugins so that we can cover both the presentation and the e-commerce content of the project. Where needed, we programmed the plugins and themes.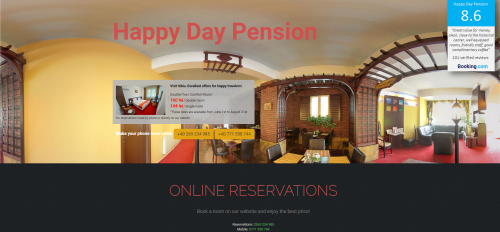 From the early stages of development process, we had in view the full responsiveness of the end-product for a dynamic user experience.
We UX UI design: visual but at the same time rich in content. To cover the message in a Single Page Website, we customized the theme so the information is interactive and at hand.
SEO plugin Yoast was also put in place to deliver best ranking results.
We included WP plugins that enable a good security of the website and the booking.com plugin to integrate the website in the Travel & Tourism platform.
Landing Page Development
Ropardo created custom post types in WordPress to exhibit landing pages for occasional offers. We helped the customers display content in an impacting manner, including photo and video galleries and related articles.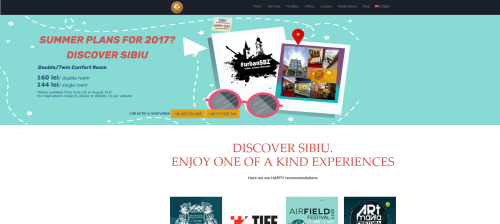 Online Shop & Security
We included in the architecture of the website, the online shop with all the functionalities of a capable eCommerce tool by using WooCommerce.
After analyzing the specifics of this shop, we built the attractive shop with its pertaining content, not forgetting to ensure the security of visitors' data and payments.
We helped the customer navigate through the software options and security requirements necessary to accept payments online and to better promote the products in the shop.
Since we also included hosting services, the security level is complete:
We apply algorithms to monitor and prevent attacks
We have up-to-date server software
We help isolate infections/hacks while tracking theme
Encrypted algorithms to keep hackers away from your code
Benefits
ROPARDO delivers fast results:
CMS solution delivered as turnkey package in the budgeted amount of time
Good value-for-money
A high-quality, all-device experience
Hackproof website
Training for the client to easily freshen up the content

Download case study
Download EN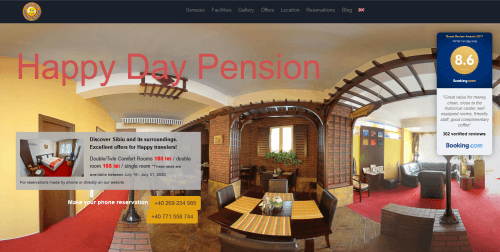 Innovation. Quality.
Timely delivery. since 1994