API Development
All-star Performance API Development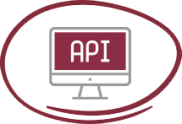 ROPARDO has the capacity to deliver highly specialized API development services, suited to varying business models and ensuring their seamless integration with powerful business apps. Regardless the protocol used (SOAP, REST), we provide well-structured code design with proper authentication that ensures all-star performance of your software applications.
Enjoy our work
You take time to think great and let all the work to us:
Development: We develop easy-to-use, highly secure and feature rich APIs to serve specific functions; we include here API process validation as well as research on best fits for your business.
Integration: We integrate different components of the APIs seamlessly to ensure smooth flow of control between various pieces of the software: web, cloud, mobile applications and more.
Support and QA: We make sure your API performs as intended and meets all business requirements.
Then enjoy the benefits:
content and data shared between apps and communities
dynamic sharing and posting on multiple locations of content created at a particular location
stronger organization-customer relationships
strategic use of business resources
better managed traffic for your web and mobile apps
measurable impact
Experts in Java, PHP and formatting standards such as Doxygen, Javadoc, or DITA, our detail-oriented API specialists have enriched the company portfolio with numerous API development projects and API integration projects.
Innovation. Quality.
Timely delivery. since 1994